80s fashion featured bold silhouettes accentuated by even bolder colors, big wild hair, and eclectic accessories.
The decade of bigger is better and more is more, the 1980s saw a revival of 1950s styles, as well as a new appreciation for futuristic and cyberpunk aesthetics.
Popular 80s clothing items include leg warmers, ripped and acid-wash jeans, bomber jackets, power dressing for women in suits with big shoulders and statement earrings, and athletic wear as leisure wear.
Popular brands include Adidas, Calvin Klein, and Levi's. Big hair styled with perms and mousse, and dramatic makeup with heavy use of eye shadow and blush.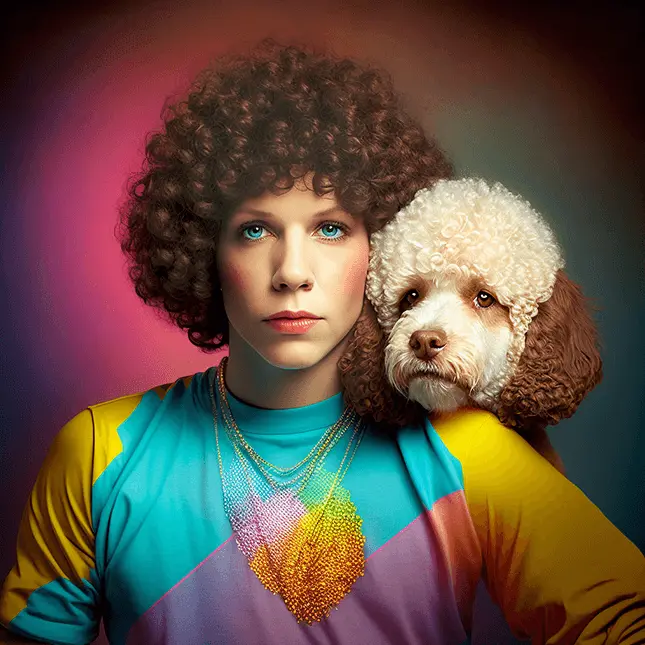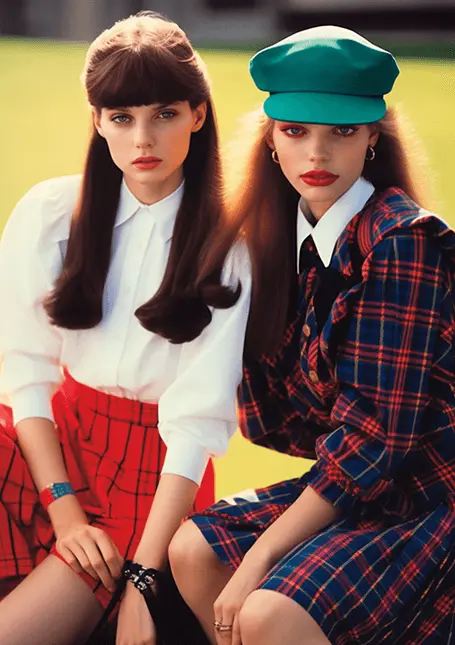 Aesthetics refers to the visual and stylistic aspects of design, including color, shape, texture, and overall visual impact.
The futuristic and cyberpunk aesthetics are two distinct styles that we see emerge in the 80s which have a significant impact on the decade's fashion and popular culture.
Futuristic aesthetics are inspired by visions of the future and the rapidly advancing technology of the time. Characterized by its use of metallic and neon colors, as well as bold, geometric shapes. Futuristic fashion items often incorporate elements of science fiction, such as spacesuits, and emphasize the idea of a technologically advanced future.
Cyberpunk, on the other hand, is inspired by the darker, grittier side of technology and urban life. It is characterized by its use of dark colors, such as black and gray, and a focus on subcultural expressions of individuality, including punk and goth. Cyberpunk fashion incorporates elements of punk and goth subcultures, such as leather, spikes, and chains.
Bright and Bold Colors
The 80s was all about making a bold statement through fashion, and what better way to do that than with bright and bold colors? The 80s fashion palette is filled with neon pink, electric blue, canary yellow, and other vibrant hues that made a statement.
The Use of Neon Colors
Neon colors are a staple in 80s fashion, and they are often used in clothing, accessories, and even makeup.
These colors are eye-catching and helped people stand out from the crowd. From neon pink leg warmers to electric blue sunglasses, neon colors are used to create bold and vibrant outfits which are hard to miss.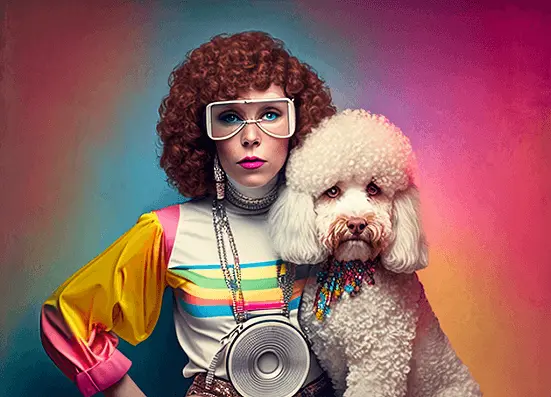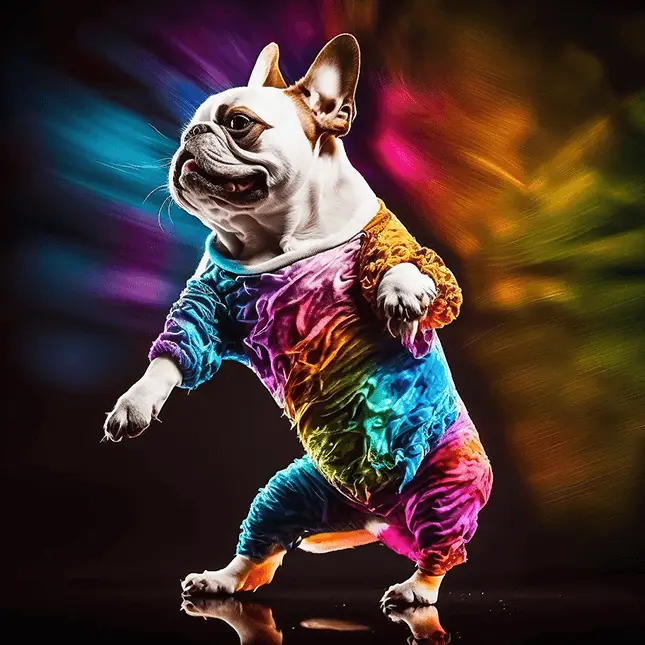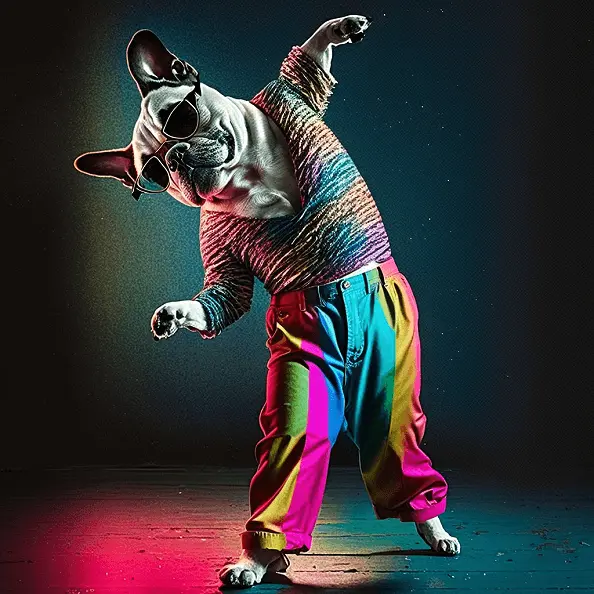 Bold Colors in Clothing
Clothing was a key way to showcase bold colors in the 80s. Bold and bright hues were used in everything from tops and dresses to pants and jackets. Clothing items like jackets, blazers, and suits were also made in bright hues, making them stand out and making a statement. These bold colors were used to make a statement, but they also helped create a fun and carefree vibe that was characteristic of the 80s.
Bright Colors in Accessories
Accessories are another way to incorporate bold colors into an 80s outfit. From jewelry and handbags to shoes and hats, accessories are often made in bright and bold hues. Boldly colored footwear, such as brightly colored sneakers and high tops, are particularly popular and help to add a pop of color to any outfit.
Overall, bright and bold colors are a key element of 80s fashion, and they helped people make a statement with their style. Whether it was through clothing, accessories, or even makeup, the 80s are all about standing out and making a bold statement through fashion.
Big Hair in 80s Fashion
The 80s was a time for making a statement, and that included with hair styles as well.
From Farrah Fawcett's iconic feathered locks to the punk movement's Mohawks, big hair was a defining feature of 80s fashion.
Farrah Fawcett's Feathered Locks
Farrah Fawcett, the actress from "Charlie's Angels," popularized the feathered hair style in the late 1970s, which continued to be a popular style throughout the 80s.
The style is created by using a round brush to create volume and blowing out the hair while using a flat iron to create soft waves. The hair was then finished with a light spray of hair spray to hold the style in place.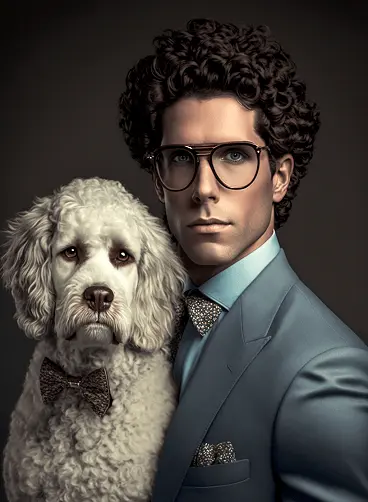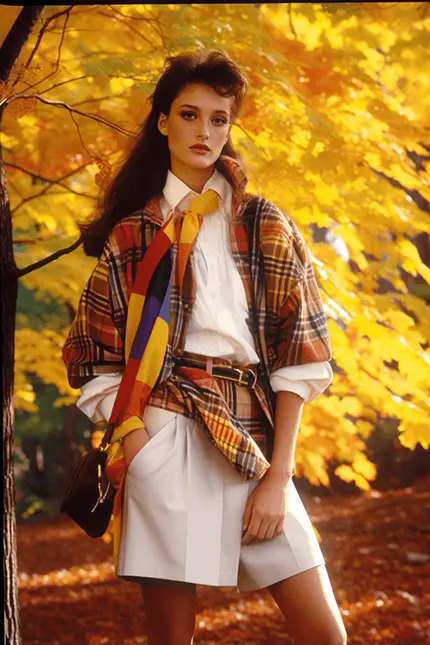 Punk Movement's Mohawks
The punk movement in the 80s brought with it a rebellious edge to fashion, including hair styles. The Mohawk, a strip of hair standing up in the center of the head and shaved on both sides, was a bold and daring hair style. This style was often paired with leather jackets, studded belts, and combat boots, making it a staple of the punk movement.
Big Hair Accessories
Big hair is often paired with accessories such as headbands, scrunchies, and hair ties. These accessories are often brightly colored and add a pop of color to an already bold hairstyle. They are also functional, helping to keep hair in place and add extra volume.
In conclusion, big hair is a defining feature of 80s fashion and was a way to make a statement and show individuality. From Farrah Fawcett's feathered locks to the punk movement's Mohawks, big hair is an important part of 80s culture and fashion.
80s Clothing Style Essentials
Oversized 80s Silhouettes
Oversized silhouettes refer to clothing items that are larger than the standard size and often hang loosely on the body.
This trend was popular in the 80s and includes items such as baggy tops, loose-fitting pants, and roomy jackets. The purpose of this trend was to create a relaxed and casual look, but also to make a statement with the clothing.
The oversized look emphasizes the relaxed, carefree attitude of the era and allowed people to express their personal style in a bold and unique way.
Popular oversized clothing items from the 80s include:
Baggy tops: Often referred to as "slouchy tops" or "oversized tops". These tops are loose-fitting and often made of lightweight, flowy materials.
Loose-fitting pants: Known as "hammer pants" or "parachute pants", these pants are typically made of lightweight, breathable materials and had a loose, billowing fit.
Roomy jackets: "Oversized jackets" or "boyfriend jackets" were popular during the 80s. These jackets are usually boxy in shape and had a relaxed, casual fit.
These items are often paired with tight-fitting or body-con clothing items to create a balanced look, and they continue to influence fashion trends to this day.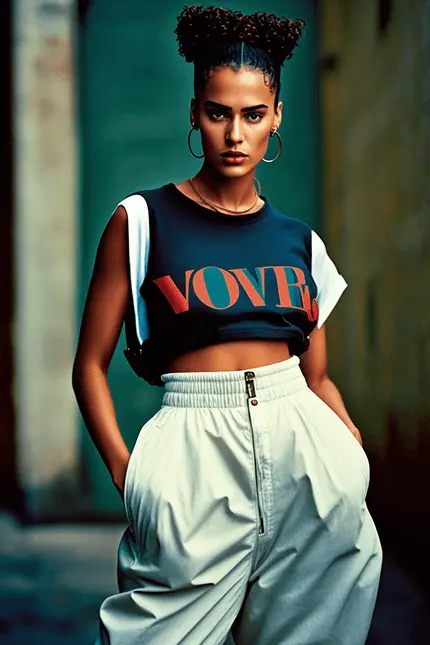 Body-con is short for "body-conscious," and it refers to clothing items that hug the body and show off its natural shape.
Body-con clothing is typically tight-fitting and made of stretchy, form-fitting materials, such as spandex, lycra, or similar fabrics.
Examples of body-con clothing items include:
Body-con dresses: Dresses that are tight-fitting and hug the body, often made of stretchy materials.
Body-con skirts: Skirts that are tight-fitting and hug the body, often made of stretchy materials.
Body-con tops: Tops that are tight-fitting and hug the body, often made of stretchy materials.
Body-con clothing was popular in the 80s and continues to be a popular trend in contemporary fashion. The trend is characterized by its form-fitting and figure-flattering design, which is intended to accentuate and showcase the natural shape of the body.
Shoulder Pads in 80s Fashion
Shoulder pads were a key element in the power dressing trend that emerged in the 1980s.
This trend is characterized by women wearing tailored blazers, jackets, and dresses with exaggerated shoulder silhouettes.
The goal of power dressing was to create an image of confidence and authority, and shoulder pads help achieve this by making the wearer's shoulders appear wider and stronger.
Some of the key features of 80s shoulder pads include:
Size: Shoulder pads in the 80s were often quite large, spanning the entire width of the wearer's shoulders. They were designed to make a statement, not to be subtle.
Shape: The shape of 80s shoulder pads varied, with some being more angular and others being rounded. There were even some designs that were shaped like puffs or cushions.
Material: Shoulder pads were typically made of foam, though some higher-end designs were made of wool or other materials.
Use: Shoulder pads were used in a variety of garments, from blazers and jackets to dresses and skirts. They could also be added to existing garments for a more dramatic effect.
Shoulder pads are an important part of 80s fashion and helped create the power dressing trend. They are bold, statement-making pieces that were designed to make the wearer look confident and authoritative.
Whether you loved them or hated them, shoulder pads are a key part of 80s fashion that are still remembered today.
50s Revival in 80s Fashion
The 80s saw a revival of many styles from the 1950s, including classic Hollywood glamour, rockabilly, and preppy looks.
This revival was inspired by a renewed appreciation for the classic, timeless styles of the 1950s, as well as a desire for a more nostalgic and romantic aesthetic.
Some popular 1950s-inspired styles from the 80s include:
Rockabilly: This style is characterized by its bold and bright colors, tight-fitting clothing, and quirky accessories. Rockabilly outfits often include items such as leather jackets, slim-fit jeans, and band t-shirts.
Preppy: This style is inspired by the traditional Ivy League look and was characterized by its use of classic, high-quality clothing items such as polo shirts, chinos, and loafers.
Classic Hollywood glamour: This style is inspired by the golden age of Hollywood and is characterized by its use of elegant and sophisticated clothing items such as ball gowns, cocktail dresses, and fur stoles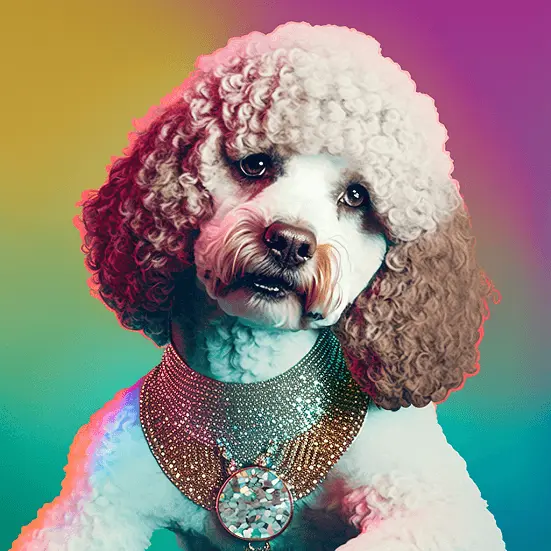 80s jewelry trends were bold, bright, and expressive. Many of the styles were influenced by the pop culture of the time and reflected the era's unique fashion sensibility.
Here are some examples:
Big earrings: Big, bold earrings were all the rage in the 80s. Popular styles include oversized hoop earrings, geometric-shaped earrings, and long, dangling earrings.
Chunky bracelets: Chunky, oversized bracelets were also popular during the 80s. These bracelets were often made of plastic or metal and could be stacked or worn alone.
Neon jewelry: As neon colors were popular in clothing and makeup during the 80s, neon-colored jewelry was also popular. Brightly colored plastic bangles, necklaces, and earrings are popular choices.
Nameplate necklaces: Nameplate necklaces were popular in the 80s and typically featured a person's name or a word that held special meaning. These necklaces were often made of gold or silver and were worn close to the neck.
Charm bracelets: Charm bracelets were popular in the 80s and feature a chain with various charms that held special meaning or represented personal interests.
80s accessories are characterized by their bold and playful aesthetic, often incorporating bright colors and unique materials.
Here are some examples:
Scrunchies: Scrunchies were a popular accessory for holding back hair, and they came in a wide variety of colors and patterns. They were often made of fabric or velvet and were often worn around a high ponytail.
Shoulder pads: Shoulder pads were a popular addition to blouses, jackets, and dresses, giving the illusion of a broader shoulder line. The trend is inspired by the power dressing movement and the desire for women to appear more confident and assertive in the workplace.
Sunglasses: Big, oversized sunglasses were a popular accessory in the 80s, with styles ranging from aviators to colorful plastic frames.
Jelly bracelets: Jelly bracelets are made of colorful, flexible plastic and were often worn in stacks on the wrist. They were a popular accessory among young people and were often traded or given as gifts.
Fanny packs: Fanny packs were a popular way to carry small items like wallets and keys, and they were often worn around the waist. They come in a wide range of colors and patterns and were often made of nylon or other synthetic materials.
Leg warmers: Leg warmers were a popular accessory worn over leggings or tights. They were often made of acrylic or wool and came in a variety of bright colors and patterns.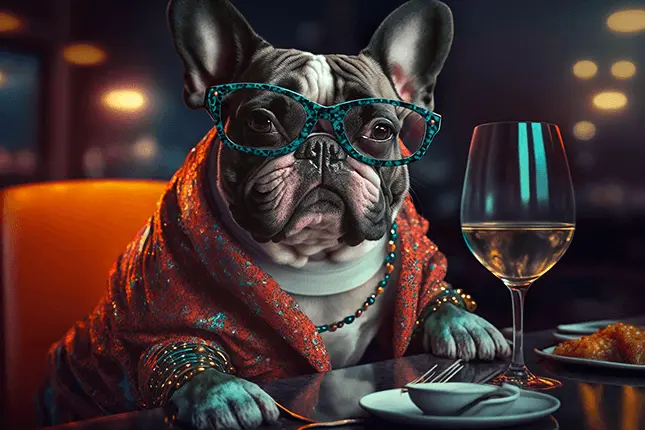 Most Popular 80s Fashion Designers
The 80s was a decade of great creativity and innovation in fashion, and there were several fashion designers who made a significant impact on the industry during this time.
Here are some of the most popular fashion designers of the 80s:
Giorgio Armani: Known for his sharp tailoring and clean, minimalist aesthetic, Giorgio Armani was one of the most influential designers of the 80s. His designs were favored by celebrities and business professionals alike, and his sleek suits and dresses continue to be a staple of modern fashion.
Calvin Klein: Calvin Klein was another designer who made a big impact on 80s fashion. His designs were characterized by their simplicity and understated elegance, with a focus on high-quality materials and expert craftsmanship. His famous "Calvin Klein" logo became an iconic symbol of the era.
Ralph Lauren: Ralph Lauren was a designer who embodied the preppy, all-American style that was popular in the 80s. His designs featured classic silhouettes, traditional fabrics, and an emphasis on quality and craftsmanship.
Versace: Versace was a designer known for his bold, colorful prints and flashy, over-the-top designs. His work was favored by celebrities and fashionistas who wanted to make a statement with their clothing.
Jean-Paul Gaultier: Jean-Paul Gaultier was a designer who was known for his avant-garde designs and boundary-pushing fashion. He incorporated elements of punk, streetwear, and cultural references into his work, and his designs were often provocative and unconventional.
These are just a few examples of the most popular fashion designers of the 80s, but there are many other talented and influential designers who made their mark on the era.
The 90s saw a significant departure from the bold and colorful fashion of the 80s, with a shift towards a more relaxed and understated style.
Here are some of the key differences between 80s and 90s fashion:
Color: While the 80s are characterized by bright and bold colors, the 90s favor a more muted color palette. Grunge-inspired fashion often feature darker shades such as black, brown, and gray.
Silhouette: The 80s feature many oversized and exaggerated silhouettes, while the 90s return to more fitted and streamlined styles. Grunge fashion was also known for its loose, baggy clothes, which were often layered.
Fabrics: The 80s feature a lot of synthetic fabrics and shiny materials, while the 90s favor natural fibers and more textured fabrics such as flannel, denim, and corduroy.
Accessories: The 80s are all about big, bold accessories, while the 90s favor simpler, more understated jewelry and accessories. Chokers and small hoop earrings were popular in the 90s.
Shoes: The 80s feature many high-heeled shoes and bold, statement-making footwear, while the 90s favor more practical shoes such as combat boots, sneakers, and sandals.
Overall, 90s outfits were a departure from the flashy and bold fashion of the 80s, with a focus on more understated and casual styles. This shift was partly influenced by the rise of the grunge subculture and a desire for a more relaxed and authentic fashion sensibility.