Dark Academia outfits outshine other aesthetics, adventurously ascending to high art. Ambitious artistic achievements, these academic outfits invoke intriguing intellectualism, powerful privilege, moonlit mystery, and scholarly sophistication, while reflecting the aesthetic's English Ivy league roots and themes of academic literary pursuits.

Fully embracing majestic maximalism, Dark Academia outfits draw from elements of Gothic, Romantic, and Classicist movements, as well as the styles of the British aristocracy and the Scottish countryside.
Achieving aesthetic darkness in Dark Academia outfits relies on luscious layering of organic fabrics, fanciful color combinations, and seductive styling. Transcend tradition and elevate educated elegance with clothing designs and patterns ripe with hidden meaning and secret symbolism.
Willfully Wild, Wickedly Wise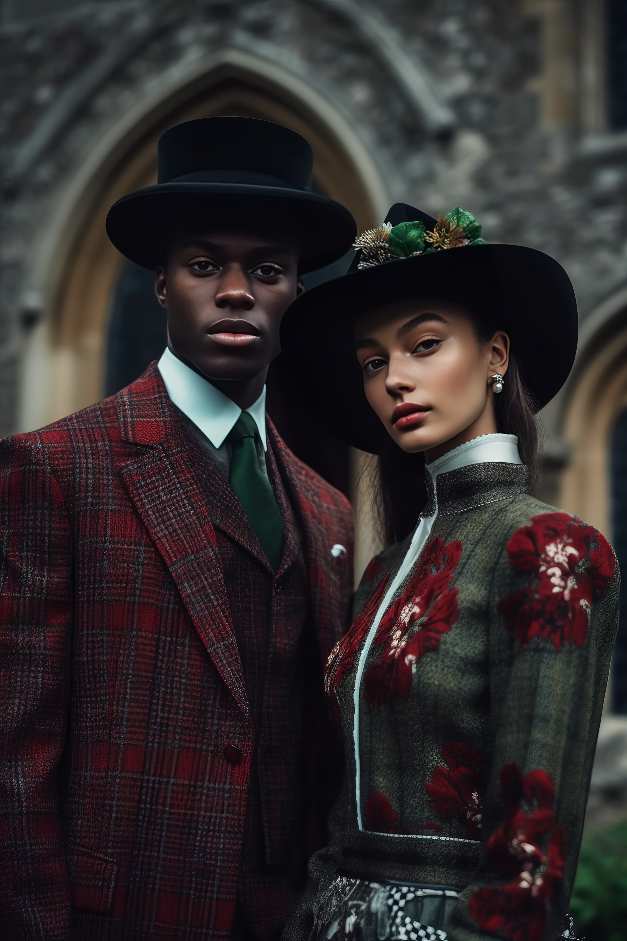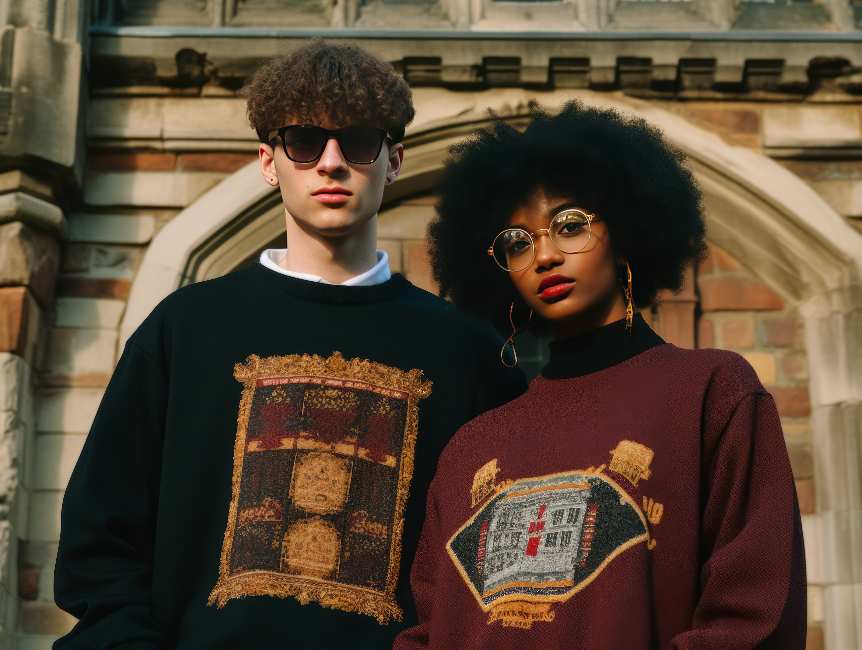 Heaven high necklines (preferably multiple) in forms of collared shirts, ruffle neck blouses, mock necks, turtlenecks, and least conservative of all, crewnecks, encompass essential base layer tops of dark academia outfits.
Dark Academia outfits feature decadent details, lavish layers, and clothing items such as wool trousers tucked into laced leather boots, and whimsical white button down shirts hidden under ancient argyle vests masked by brown blazers worn over cream colored cardigans.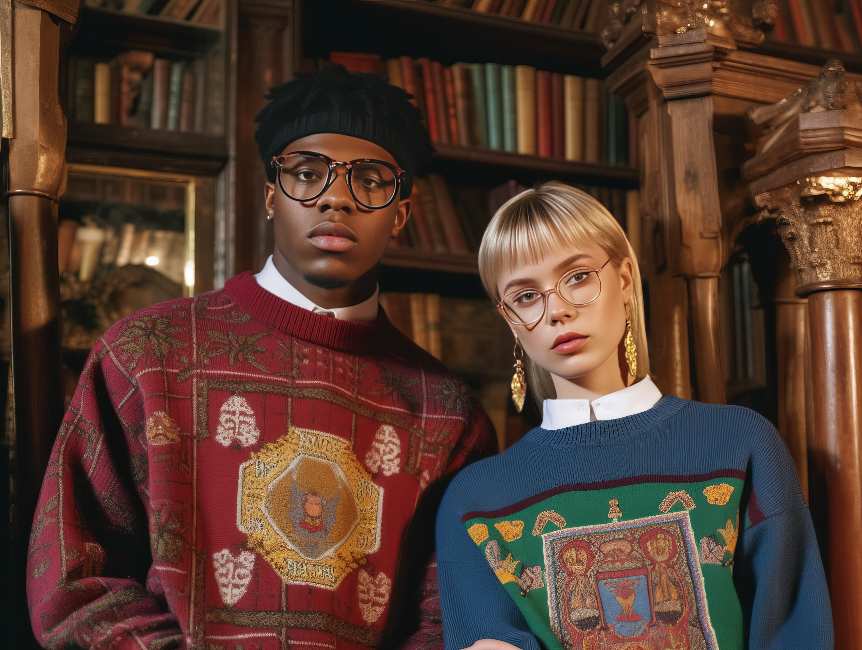 SEXY STRUCTURE, DARING DRAPING, LUXURIOUS LINES
Key Elements
Key elements of Dark Academia outfits include vibrant, natural color palettes, powerful plant patterns and majestic Medieval motifs. Outfits come creatively cut from textured textiles, showcasing glorious geometric lines in posh perfection.
Playful Patterns
From bold Baroque to preppy plaid and argyle Dark Academia outfits feature fabulous florals, over the top naturalist themes, and mystical Medieval motifs that transcend time to deliver diving darkness in a secretively symbolic manner.
Gothic Influence
Gothic architecture, with its pointed arches, ribbed vaults, and elaborate stone quatrefoils inspires depth, texture, and focus on heavenly ascendance.
Renaissance Revival
Regal Renaissance riches, intricate playful patterns, and delightful details embellish Dark Academia outfits with scholarly symbolism, and arcane allure.
Sinfully Seductive, Sophisticated, Scholarly Style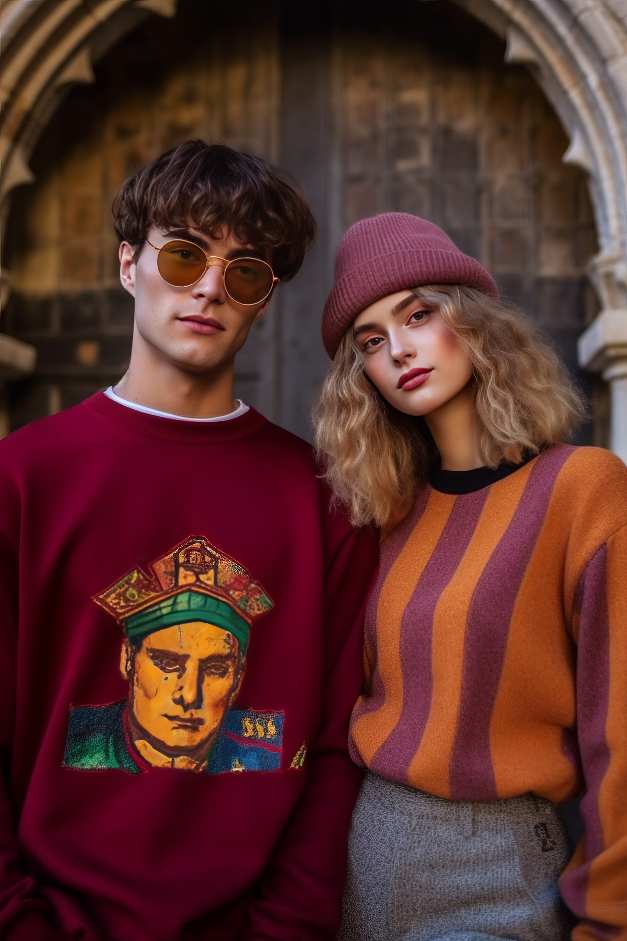 Styled with an esoteric elegance only appreciated by clandestine circles of erudite elites, Dark Academia outfits obscure their rarity, refinement, and palatial prices behind casually styled beautifully blending basics.

Dark Academia outfits drip detail, layering, and may feature wool trousers tucked inside laced leather boots, or whimsical white button down shirts hidden under velvet vests and cream colored cardigans with bold brown blazers.
Captivatingly Cerebral Colors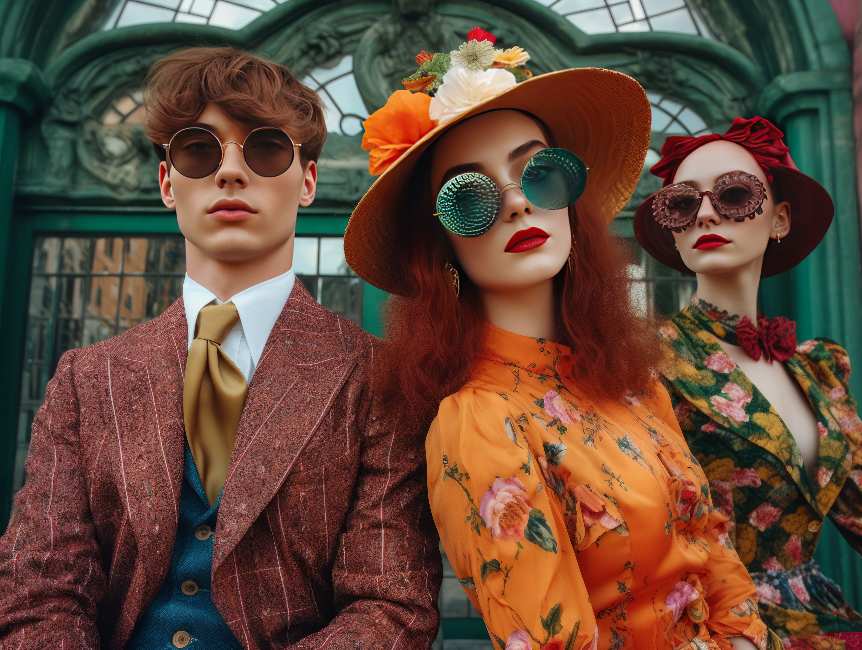 Neither Women's nor Men's Dark Outfits shy away from beautiful bold colors like vibrant teals, oranges, and shamrock greens paired with burgundy, gold and crimson red. Classic vintage clothing, hats, glasses, jewelry, shoes, and accessories must all feature fantastical flavor in courageously colorful palletes.
TASTEFUL, TACTFUL, TIMELESS
Tweed, a unique woolen fabric that originated in the Scottish countryside during the early 19th century, epitomizes the academic look.

Traditionally, painstakingly produced by hand weaving different colored wool threads to create intricate patterns and designs, tweed evokes a sense of opulent refinement once only available to the aristocracy.
Historically, tweed's weight, warmth, structured shape, quick drying properties, and overall outdoorsy-ness made it an edgy masculine fabric choice worn mainly by European elites during outdoor pursuits such as hunting and fishing.

In Dark Academia style, tweed pairs perfectly with all colors creating an adventurous appearance.
A durable, distinctive, rough, structured, and functional wool style, tempestuous tweed takes first place as Dark Academia's best fabric for outerwear.

Richly rugged and marked by subtle patterns in earthy tones, tweed blazers, jackets, coats, skirts, and pants keep academics dry and warm. A classy choice for Scotland and the British Isles.
POLISHED, PLAYFUL, PROVOCATIVE
Plaid, a pattern of intersecting stripes or bands that colorfully cross at right angles forming a checkerboard-like design, also descends from Scotland.
In Dark Academia plaid pays homage to traditional Old Money aesthetic aristocratic patterns with a vibrant
preppy
twist.
Pair plaid with fanciful florals, bold colors, playful patterns, and more plaid, for rmaximalist Dark Academia modern Royalcore style,