Preppy aesthetic, Preppie, or Prep (all abbreviations of the word preparatory), is the elitist subculture of America's upper class.
In the United States, preppy is associated with the style of Northeastern college preparatory institutions. It can also denote a person who fits the mold of students or alumni of these schools. 
It is a lifestyle that taps into the rich cultural tradition of America's wealthy elite. Its unchanging scholarly sophistication celebrates timelessness and nostalgia. 
What Is Preppy Aesthetic?
Preppy is an Old Money style of dress, design, and culture.
Characteristics that define preps include a specific type of educated speech, vocabulary, etiquette, mannerisms, and dress, which reflect an upper-class upbringing.
Unlike the novelty-seeking fashions of the nouveau riche, prep favors simple, understated, and never-changing clothes that exude effortless elegance and signal status.
Preppy aesthetic is defined by crisp button-downs, loose pastel knitwear, Polo shirts, and boat shoes (often without boats). It conveys the carefree, trust-fund vibes of Ivy league school boys.
Along with Nerd, Jock, and Goth, Prep, is one of the four main stereotypes used to classify high school students.
Co-authored by Patrycja Krystman & Nelson Schwab, with expert Gwen Gilmore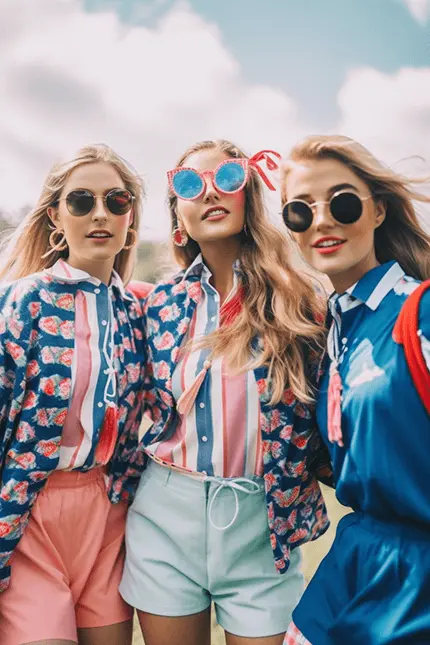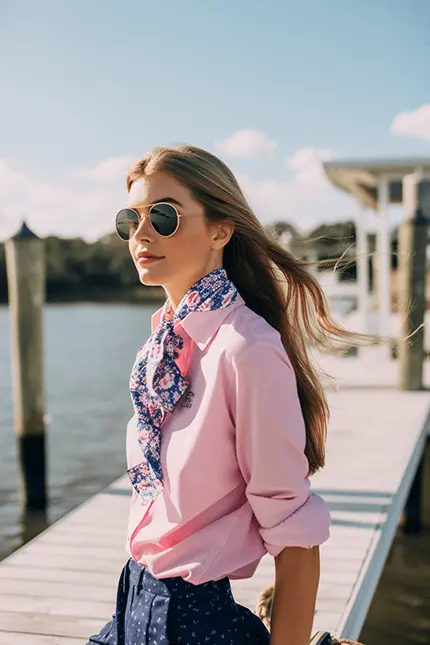 Where Did Preppy Aesthetic Come From?
Preppy aesthetics emerged alongside the establishment of America's first prep, or preparatory, schools in the late 18th and early 19th centuries.
These prep schools were established with the purpose of preparing students for admission to prestigious universities such as Harvard, Yale, and Princeton. They emphasized traditional values such as honor, duty, and sportsmanship. Their graduates went on to attend Ivy League colleges and enter elite professions.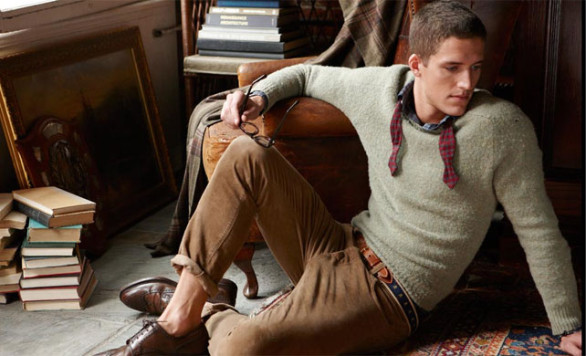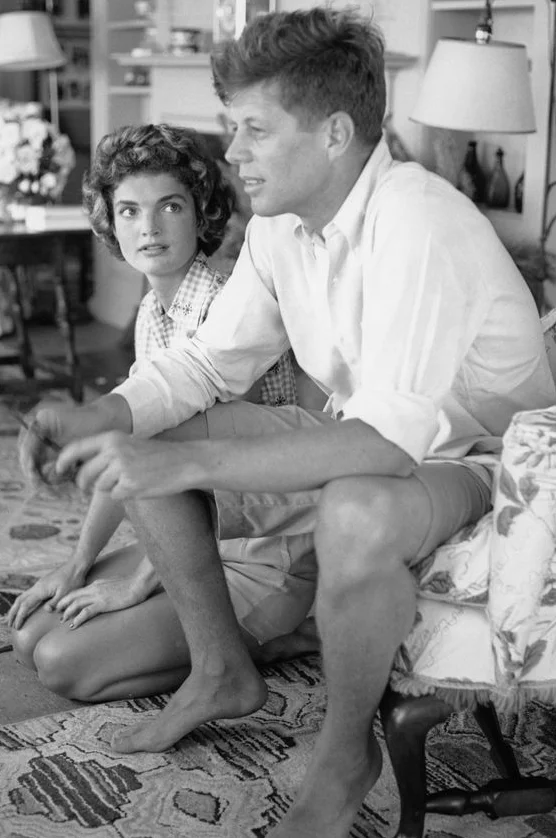 Historical Evolution: Preppy Aesthetic 1900 Through Today
Although Phillips Academy in Andover, America's first preparatory school for boys was founded in 1778 and others soon followed, the style of dress at these institutions was much more "Dark Academia" than what we would consider preppy aesthetic today.
In fact, it wasn't until around 1910 that true sportswear or athletic wear emerged. Prior to the early 20th, athletes typically wore clothing that was not specifically designed for athletic activities. This clothing was often uncomfortable, restrictive, and not well-suited to the physical demands of sports.
For example, early football players often wore wool trousers and button-down shirts, which were not very flexible and could become heavy and uncomfortable when wet. Baseball players wore formal trousers and long-sleeved shirts, which could be restrictive and uncomfortable in the heat.
Historians suggest that modern sportswear started at Princeton University at the beginning of the 20th century. Around 1910, students at Princeton began to wear athletic clothing that was specifically designed for sports like football and tennis, rather than the more formal attire, which had previously been worn for athletic activities.
One influential figure in this movement was a Princeton alumnus named John Brooks, who went on to become a fashion designer. Brooks was a member of the school's football team and was said to have been frustrated by the lack of suitable clothing for athletic activities. He began experimenting with new designs and materials, and eventually created a line of sportswear that was sold under his family's brand name "Brooks Brothers."
The simplicity, durability, and functionality of Brooks' designs made them practical for the rigors of athletic activity. More comfortable and practical than its predecessors, "preppy" Sportswear quickly gained popularity among athletes and outdoor enthusiasts.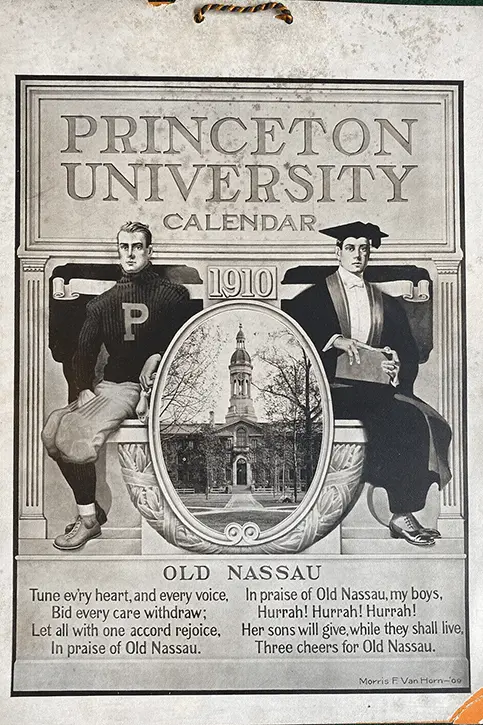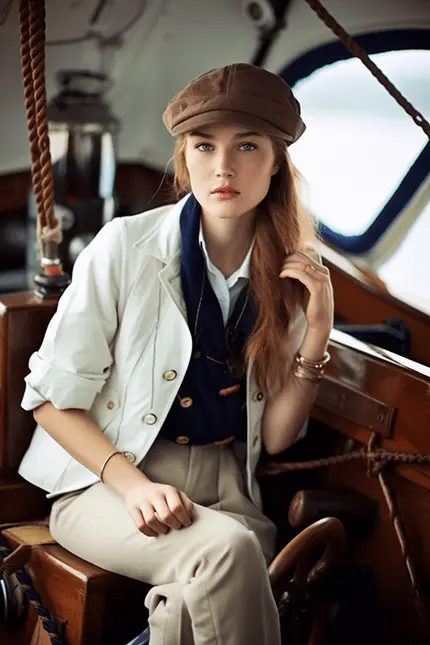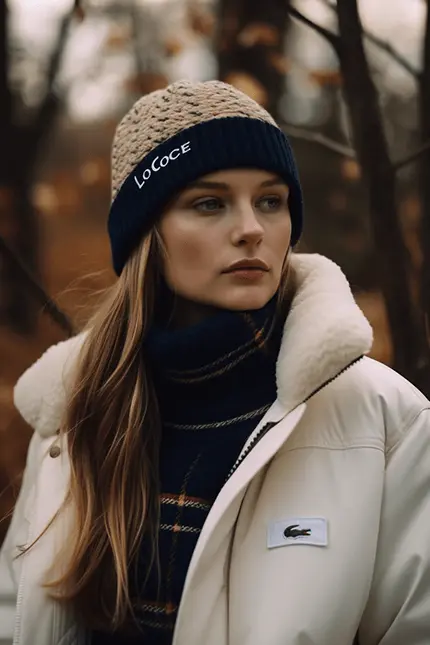 1920s-1930s
Preppy style began to emerge during this time period, as more students from elite New England universities began to adopt a distinctive style. This style was characterized by tailored blazers, oxford cloth button-down shirts, khaki trousers, and loafers. This style was functional and comfortable, but also elegant and understated.
1940s-1950s
During this time, preppy style became more widespread and began to be associated with the Ivy League look. The style was still classic and timeless, but became more refined and tailored. Blazers and sport coats became more structured and fitted, and accessories like ties and pocket squares became more popular.
1960s-1970s
The Kennedy family popularized preppy style during this time, and it became associated with a more casual and laid-back aesthetic. Sweaters, cardigans, and polo shirts became more popular, and the style became more colorful and playful. The influence of the counterculture also began to be seen in preppy style, with the adoption of items like denim jeans and sneakers.
1980s-1990s
During this time, preppy style became more associated with wealth and status, with luxury brands like Ralph Lauren and Tommy Hilfiger incorporating preppy elements into their designs. This period saw a return to the more traditional elements of preppy style, with classic items like blazers, oxford shirts, and loafers being popularized again.
2000s-present
Preppy style has continued to evolve in the 21st century, with a focus on sustainability and ethical production becoming more important. Classic items like blazers, oxford shirts, and khaki trousers are still popular, but there is also a trend towards more relaxed and comfortable clothing. There is also a trend towards incorporating preppy elements into streetwear and athletic wear.
The Preppy visual aesthetic is deeply rooted in upper-class society and its affiliation with Ivy League universities such as Harvard, Princeton, and Yale.
The visual elements associated with the Preppy aesthetic are often broken down into two variants, New England Prep or East Coast Prep and Southern Prep, each with its own unique patterns, colors, and motifs.
New England Prep or East Coast Prep
New England Prep or East Coast Prep draws inspiration from the nautical world, incorporating elements like anchors, compasses, ships, lighthouses, whales, and maritime stripes into its design.
Hydrangeas, which are commonly found on Nantucket, are also associated with East Coast prep.
The colors used in New England Prep are derived from nature, including olive green, navy blue, beige, tan, and dark red, evoking a sense of calm and serenity.
In contrast to East Coast Prep, Southern Prep is more playful and vibrant. Southern Prep incorporates elements like palm trees, elephants, monkeys, and zebras.
Lilly Pulitzer is a popular brand that epitomizes Southern Prep with its colorful patterns and prints.
The colors used in Southern Prep are much brighter and more saturated, including hot pink, kelly green, lime green, bright yellow, turquoise, and orange.
Contrasting colors are often paired together, such as pink with green or blue, orange with green or blue, red with blue or green, and yellow with blue or turquoise. Shades of purple, including lavender, are not commonly used.
Southern Prep is more casual than New England Prep, with bare arms and legs being more commonly displayed.
Do you ever wish you could channel the effortless elegance of a classic 1950s movie star like Marylin Monroe or a charismatic Ivy League leader like JFK?
Preppy fashion is a polished, slightly androgynous style with roots that date all the way back to the 17th-century argyle sweater fashions of the Scottish Highlands.
Inspired by outdoor activities such as sailing, tennis, and golf, Preppy fashion emphasizes practical layering with freedom of movement, a sense of refinement, elegance, and good taste.
Preppy Aesthetic Clothing
Preppy clothes may help you look and feel classy, but most importantly they'll allow you to blend into a community of like-minded peers and mentors who share your passion for knowledge, exclusivity, and a classic style that screams "I'm wealthy" without begging "rob me."
Buying sustainable, high-quality clothing from trusted brands that have been around for decades, embraces timeless shared values like quality over quantity and the importance of pristine craftsmanship.
Brands like Brooks Brothers, J. Press, Ralph Lauren, Lacoste, J. Crew, and Vineyard Vines, define Preppy Aesthetic.
Ivy: The OG Preppy Aesthetic
The original preppy aesthetic is the New York and northern Ivy League version, which stays true to its British and Scottish roots. This style represents a love of privilege, a commitment to education, and an appreciation for outdoor activities.
The classic northern style of prep is very Dark Academia. It features darker, natural tones like hunter green, navy blue, and burgundy, paired with lots of wool, and leather, favoring tweed blazers, riding boots, and wool hats.
For example, when my bestie Gwen attended Millbrook and Lawrence Academy (northern prep schools) from 2004 to 2008, Ralph Lauren's Rugby collection was the most popular style of preppy clothing.
Preppy Accessories for a Complete Look
A preppy aesthetic outfit isn't complete without the right accessories and details.
Classic watches (or watch straps for your smart watch), leather  and needlepoint belts, silk patterned ties and scarves, leather bags, pearl earrings or necklaces, and classically framed sunglasses complete the look.
Pay attention to clean stitching and the details of your outfit, such as tucking in your shirt and rolling up your sleeves. The goal is to look both relaxed and polished.
Women have many more options when it comes to preppy fashion. According to my BFF Gwen, who, in her heyday attended two boarding schools (Millbrook and Lawrence Academy), and later got her masters in Milan – this is what preppy boarding school dressed like from 2004 to 2008, since Preppy aesthetic literally NEVER changes, you can still count on her advice.
Preppy aesthetic women's fashion includes variations of white button-downs, pleated skirts, A-line skirts, tweed mini skirts, V-neck sweaters, cardigans, blazers, and tennis dresses. Denim, conservative necklines, and layers of luxury fabrics with classic, traditional cuts are also crucial.
Preppy women's shoes are versatile and stylish year-round. Spring shoes include Mary Janes, sandals, espadrilles, loafers, boat shoes, ballet flats, canvas or leather sneakers, ankle boots, oxfords, riding boots, knee-high boots, and duck boots.
Mary Jane shoes are a type of low-heeled leather shoe with a closed toe, a strap across the instep, and a buckle or button closure. The name "Mary Jane" comes from a comic strip character named Mary Jane who wore shoes with a similar style in the early 20th century. Since then, Mary Jane shoes have become a classic, comfortable, and versatile shoe with a feminine touch that can be dressed up or down, depending on the occasion.
Boat shoes, or deck shoes, are a type of preppy casual footwear originally designed for use on boats and other watercraft. They typically have a rubber or non-marking sole that provides excellent traction on wet surfaces, as well as a slip-on or lace-up design. 
Boat shoes feature a moccasin-like construction, with a leather upper that is stitched to the rubber sole. The leather upper is often treated with water-resistant materials to help protect against the elements. 
Comfortable, durable, and versatile, boat shoes can be worn with a variety of casual outfits, such as shorts, khakis, and jeans, and are generally paired with sockless feet. Boat shoes are a staple of preppy and nautical-inspired fashion.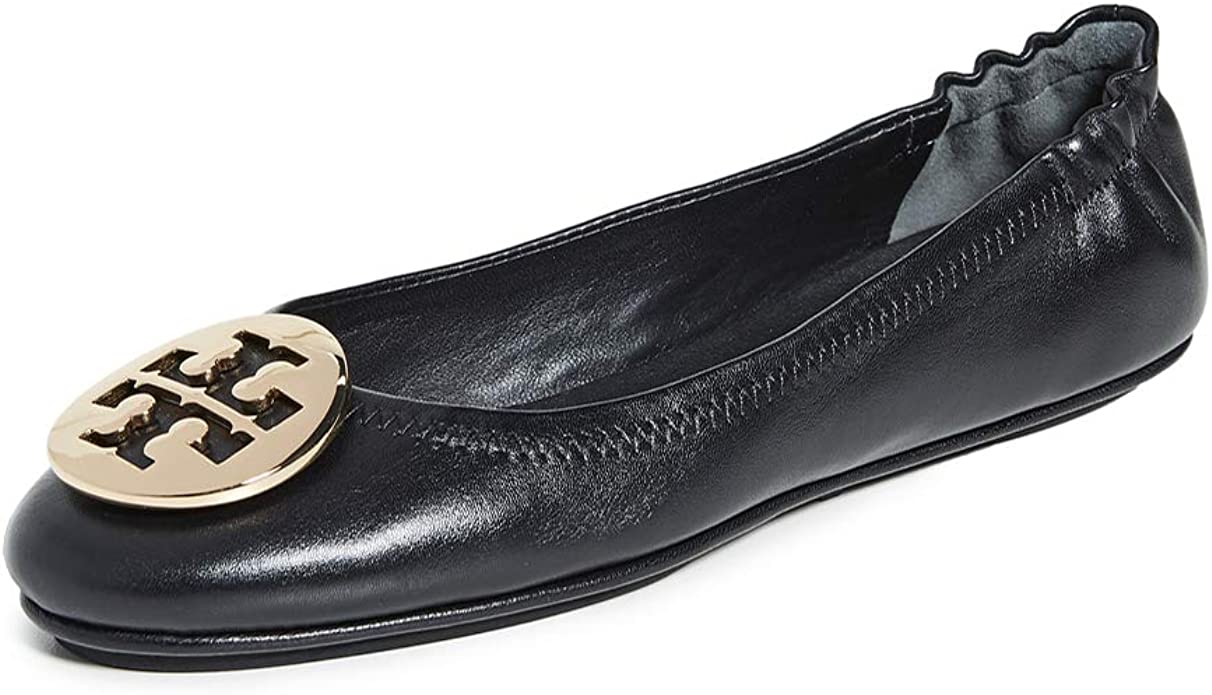 Tory Burch Women's Minnie Preppy Travel Ballet Flats

Jack Rogers Women's Palm Beach Navajo Classic Sandal
The male preppy aesthetic includes patterned button down shirts with crisp white collars, vests of all varieties (including sweater vests), sweaters, navy blue cardigans, blazers and classic trousers.
Needlepoint belts, Sperry boat shoes (no socks), Gucci loafers (also no socks), leather sneakers (ankle socks), and leather boots in winter all complement a man's preppy wardrobe.
According to my prep school insider husband, Northeastern rich is the preppiest prep. Vintage prep, if you can get it in good condition, is supreme, and your brother's old button down is where it's at. If you don't have any of those, go down to a wealthy folk thrift store in the preppy part of town and stock up. The key to preppy aesthetic is that you never want to look like you're trying too hard.
According to my husband, an OG 90s prep school boy from Charlotte, a man's polo shirt game is the key to success in the preppy aesthetic. Also, a real man needs at least 10 different Polo shirts in varying colors, patterns, and animal logos.
Polo shirts can feature one of the three animal patch choices. The two classic choices are the Horse (Polo), and the Alligator (Lacoste). The newer Millennial prep option is the Whale, which belongs to Vineyard Vines and hit the scene in 1998.
Though different cuts and styles of polo shirts exist, at its core, the polo remains a pull over shirt with a collar and two or three buttons at the top. Within that definition, Polo shirts offer a lot of style choices that are unique and yet all look the same. Thus, according to my husband, a preppy man's aesthetic is all about the nuance of his panache.
Polo shirts are versatile and can be worn with a variety of clothing items, such as over-the-neck sweaters and cardigans.
In the early to late 2000s, polo shirts could even be worn with more polo shirts.  In fact, layering two to three different colored polo shirts, over each other created a unique and eye-catching preppy look that women could not get enough of.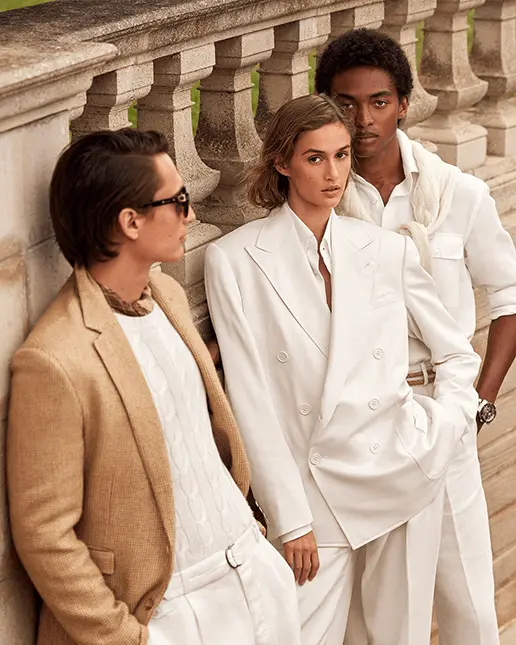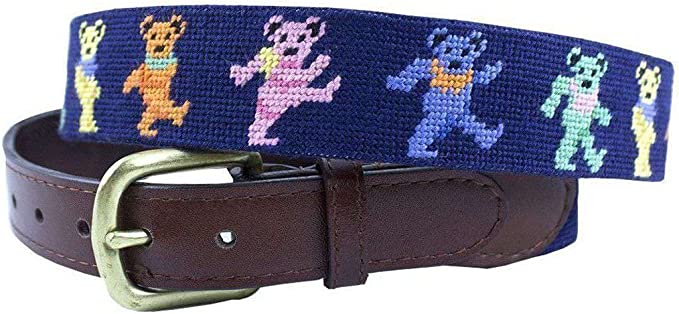 Smathers & Branson
Dancing Bears
Needlepoint
Belt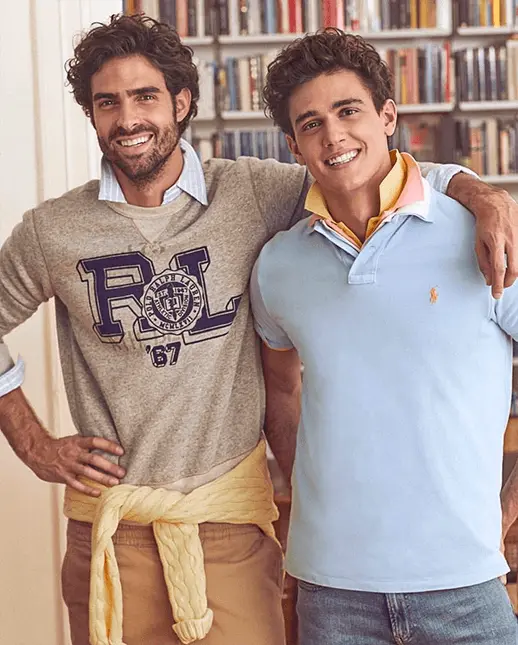 Preppy wallpaper, whether it's for your phone, tablet, computer, or an actual wall can take a variety of shapes and forms. 
From Lilly Pulitzer style patterns to nautical style, beautiful pink beaches, and preppy dogs, preppy aesthetic phone and desktop wallpapers give you many cute options but should generally correspond to the time of year.
Preppy room wallpapers should be more muted, incorporating neutral or pastel pallets, and simple, classic patterns such as maritime strips, paisley, herringbone, or muted floral prints.
Like Preppy fashion, Preppy interior design is classic, tailored, and refined. Traditional decor of the American East Coast elite is a staple component. Through a mix of vintage and contemporary elements, the style emphasizes a sense of elegance, sophistication, and quality.
Preppy visual elements include a color palette of pastels and neutrals, classic patterns such as plaids, stripes, and florals, and elegant furniture pieces such as wingback chairs, chaise lounges, and tufted sofas.
In terms of layout, Preppy interior design focuses on symmetry and balance, with a focus on creating a sense of order and organization.
Incorporate antiques and vintage pieces, such as Persian rugs, silver candlesticks, and crystal chandeliers, to create a sense of history and tradition. Use bookcases, built-in shelving, and cabinetry to display art, photos, and cherished collections.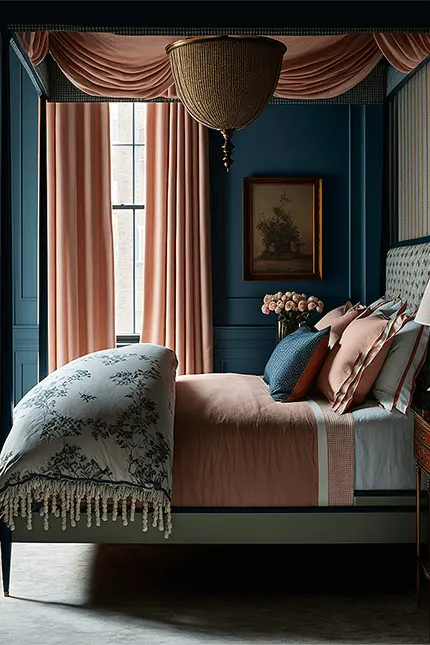 Color Schemes:
One of the key elements of preppy home decor is a classic color scheme. Think navy blue, hunter green, burgundy, and crisp white. These colors can be incorporated into your design in a variety of ways, from painting your walls to adding throw pillows and blankets to your couch. For a truly preppy touch, consider adding some plaid patterns, which are a hallmark of the preppy aesthetic.
Furniture and Accessories:
When it comes to preppy home decor, it's all about classic, timeless pieces. Look for furniture made from natural materials like wood and leather, and opt for accessories like brass lamps and bookends to add a touch of sophistication. Additionally, don't be afraid to mix and match different textures and patterns to create a cozy and inviting space.
Nautical Touches:
Another hallmark of the preppy aesthetic is a love of all things nautical. You can incorporate this into your home decor by adding elements like anchor motifs, rope accents, and sea-inspired artwork. Try incorporating some vintage nautical pieces, like a brass telescope or a ship's wheel for an extra touch of sophistication.
Definition - What Defines Preppy?
Preppy
noun: a student or alumni of an expensive college preparatory school or a person resembling such a student in style, dress, and appearance.
adjective: of or characteristic of a student or alumni of an expensive preparatory school, especially with reference to their style of clothing, which is neat, understated, and of high quality, suggesting the wearer is well-off, upper class, and conservative.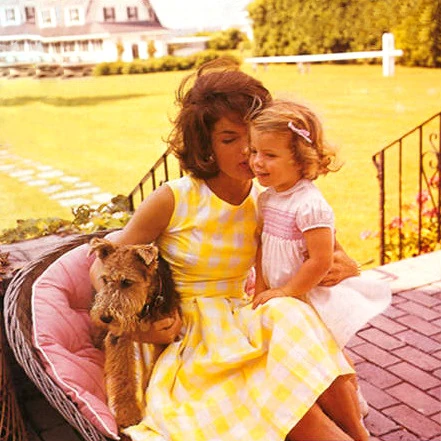 Ralph Lauren, known for its iconic polo shirts, blazers, cable-knit sweaters, chinos, loafers, and boat shoes.
Vineyard Vines is a New England preppy clothing brand originally inspired by life on Martha's Vineyard. Vineyard Vines sports bright preppy colors, patterned shorts, and whimsical graphics.
J.Crew is a classic preppy brand that offers preppy clothing and accessories for men, women, and children. J.Crew became a go-to brand for preppy fashion in the 1990s and 2000s. The brand offered preppy staples such as striped shirts, blazers, and khaki pants, along with aesthetic accessories like bracelets and canvas tote bags.
Brooks Brothers, one of the oldest preppy clothing brands in the United States, is a classic American clothing brand that has been associated with preppy style since its founding in 1818. The brand is known for its classic preppy styles, such as button-down shirts, blazers, tweed jackets, and suits.
L.L. Bean is a classic American label that offers preppy clothing and accessories for men, women, and children. The brand is known for its iconic Bean duck Boots and canvas bags, as well as its classic cable-knit sweaters and flannel shirts.
Tommy Hilfiger is a preppy brand known for its iconic red, white, and blue logo, as well as staples, such as polo shirts and chinos.
J.Press is a traditional preppy brand that has been associated with preppy aesthetic since the 1920s. It's known for its tweed blazers, corduroy pants, and classic button-down shirts.
Sperry has been a go to for preppy shoes since the 1930s when it introduced the iconic boat shoe that became a staple of summer Prep.
Lilly Pulitzer is one of the top southern preppy brands. Known for its colorful patterns and animal prints, Lilly Pulitzers offers preppy summer dresses, skirts, and accessories that are perfect for a beach or resort-inspired look.
Lacoste is a preppy clothing brand known for its iconic crocodile logo, polo shirts, golf sweaters, and tennis skirts.
Burberry is a British fashion brand that is popular among preppy fashion enthusiasts. The brand is known for its classic trench coats, plaid patterns, and preppy staples such as blazers and button-down shirts.
Tory Burch is another popular preppy aesthetic brand that offers clothing, accessories, and footwear for women. Tory Burch is known for its signature ballet flats, golf outfits, blouses, dresses, and handbags. The designs often feature classic prints and patterns, such as stripes, polka dots, and florals, and the brand's logo is a graphic "T" that is often prominently displayed on its products.
Van Heusen is a brand that has been around since the early 20th century and is known for its dressier, more formal preppy clothes.
The Preppy aesthetic has several related aesthetics that are closely associated with it. Overall, these related aesthetics within the Preppy style draw on different historical, cultural, and regional influences to create distinctive looks that are popular among many young people today.
Aesthetics Related to New England or East Coast Prep
Aesthetics Related to Southern Prep
Other Prep-Influenced Aesthetics
Over the years, the preppy style has also been incorporated into other subcultures, such as punk or grunge. In these subcultures, preppy fashion was often subverted and given an edgier twist.
For example, punk rockers in the 1970s and 1980s might have worn preppy staples like blazers and loafers but paired them with ripped jeans and leather jackets to create a rebellious, anti-establishment look. Similarly, grunge fashion in the 1990s often incorporated elements of preppy style, such as flannel shirts and Doc Martens, but paired them with ripped jeans and unkempt hair to create a disheveled, alternative look.
Today's preppy fashion enthusiasts embrace a wide range of styles and influences, from classic prep to modern twists on preppy staples. Whether you prefer a preppy blazer and chinos or a preppy-inspired dress with playful prints, there's no wrong way to rock preppy aesthetic!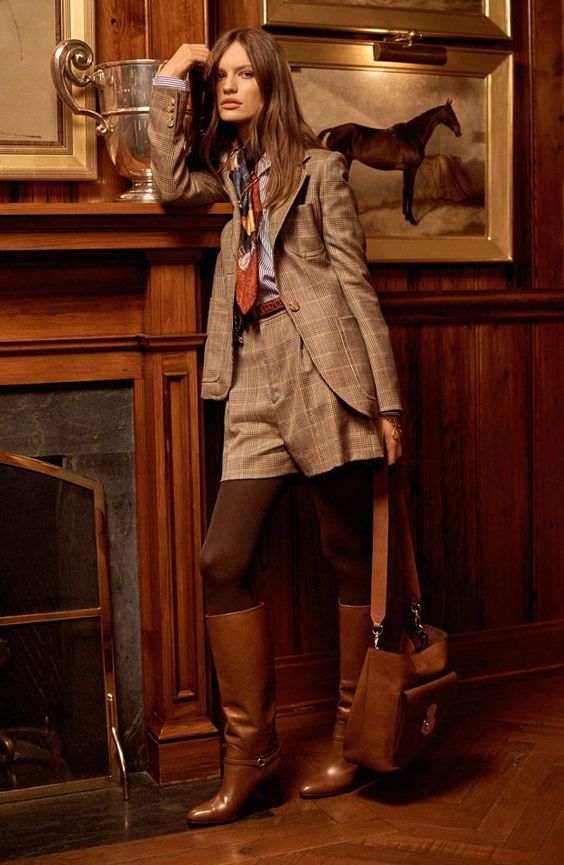 Preppy Politics
Though the Preppy aesthetic is not inherently political, it is undeniable that the cultural and historical background of those who subscribe to the aesthetic has influenced their political beliefs and attitudes.
Preppy culture is associated with the WASP culture, which has a long history of political influence in the United States. The WASP culture has often been associated with conservatism and Republicanism, and many Preps have adopted these political leanings.
However, it is important to note that not all Preps align with conservative or Republican beliefs. The Preppy culture is not monolithic, and there are many variations and subcultures within it. Some Preps are far more liberal and progressive.
Preppy aesthetic, as with any cultural trend, is not immune to the influence of societal changes and progress. The younger generation of Preps is far more diverse and inclusive than their predecessors and many younger Preps have embraced liberalism.
The aesthetic has been criticized for perpetuating certain outdated and harmful ideas. Southern Preppy culture, in particular, has been accused of upholding ideals associated with slavery, racism, and homophobia. The practice of Plantation Weddings and the culture of the Southern Belle, for example, have been called out for romanticizing a problematic past.
Cultural Significance of Preppy Aesthetic
Preppy style isn't just about looking good – it's also about embracing a cultural tradition that celebrates the values of hard work, dedication, and community.
American universities, especially those in the Ivy League, played a significant role in the development of preppy fashion. These universities were known for their dress codes, which required students to wear specific clothing items. The clothing items were often expensive and made of high-quality materials, which became a hallmark of preppy style.
Yale and Harvard were two of the most influential schools in this regard. Yale was particularly known for its "Ivy League Look," which consisted of a navy blazer, gray flannel trousers, and a striped tie. Harvard, on the other hand, was known for its "preppy" look, which featured penny loafers, polo shirts, and madras shorts.
The Jazz Age, which spanned from the 1920s to the 1930s, was a time of great social change and liberation. The clothing styles of this era were more relaxed and comfortable, reflecting the new attitudes towards fashion and life. This period saw the emergence of new styles, such as the sporty look and the "collegiate" style, which drew inspiration from the clothing worn on college campuses.
The Great Gatsby, a novel by F. Scott Fitzgerald published in 1925, featured characters who were wealthy and fashionable, and their clothing choices reflected this. The characters wore items such as tuxedos, flapper dresses, and fur coats, which were luxurious and extravagant.
In the 1960s, the Kennedy family also played a significant role in popularizing preppy fashion. President John F. Kennedy and his wife, Jacqueline Kennedy, were known for their preppy style and often wore clothing items that became associated with preppy fashion, such as boat shoes, trench coats, and slim-fitting suits.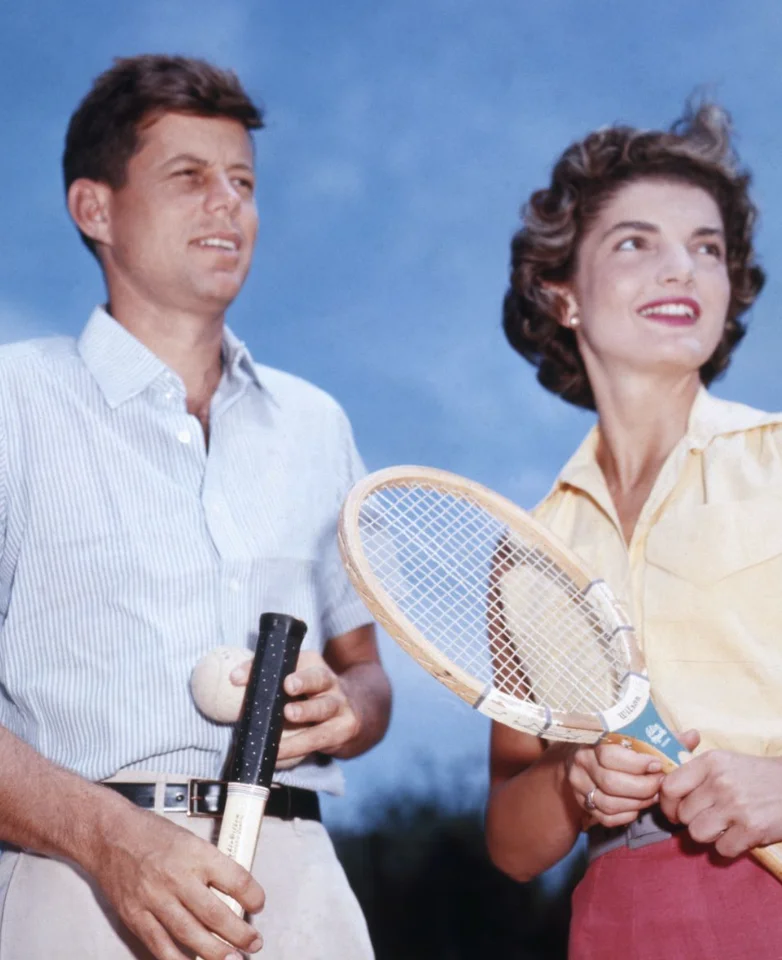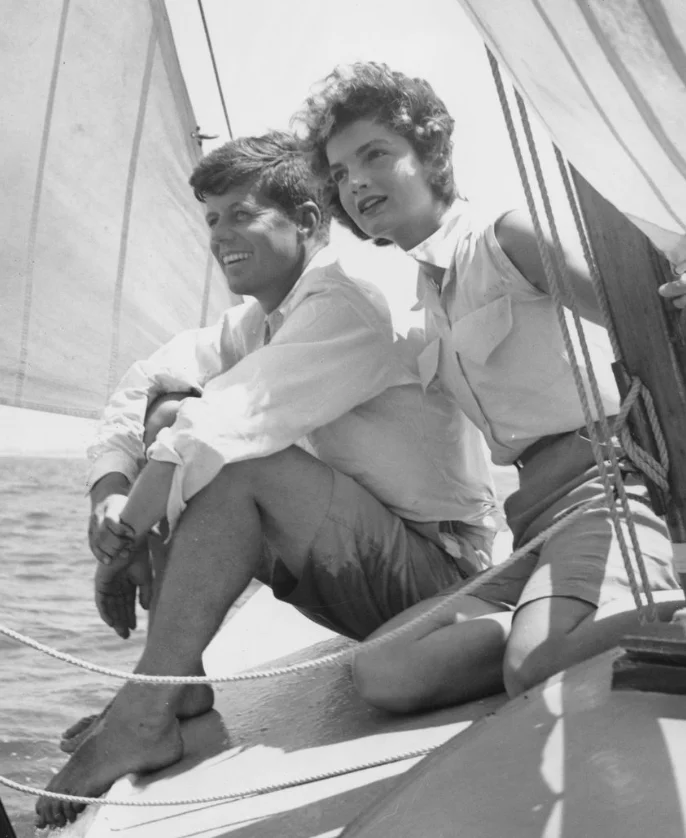 Benefits of Incorporating Preppy Aesthetic into Your Outfits​
In addition to being stylish and sophisticated, preppy fashion also offers a range of practical benefits including an emphasis on quality craftsmanship and durability, which means that preppy pieces are built to last and can be worn for years to come.
Additionally, preppy clothes are timeless, comfortable, and versatile making pieces easy to dress up or down for any occasion.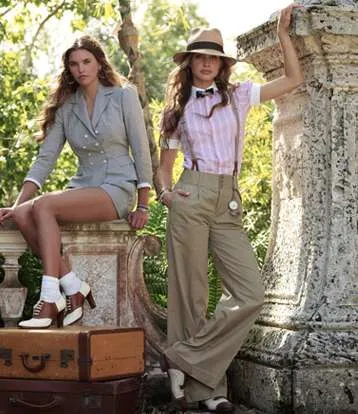 Best Preppy Aesthetic Outfit Inspiration
#1 Blair Waldorf Gossip Girl
Blair Waldorf, from the original "Gossip Girl" TV show is the perfect Y2K example of the preppy aesthetic.
Blaire's wardrobe consists of classic pieces, such as silk headbands, tailored blazers, A-line skirts, and knee-high socks.
Blair's outfits often feature a refined and understated color palette, with a particular emphasis on navy, white, and pastels.
She frequently wears preppy accessories, like pearl necklaces, brooches, and classic leather handbags.
Beyond her wardrobe, Blair's personality and behavior align with preppy values of sophistication, propriety, elitism, and academic achievement. Her privileged upbringing and Ivy League education further reinforce her status as a quintessential preppy character.
#2 Cher & Dion from Clueless 1995
Cher and Dion from the movie "Clueless" have a unique 90s fashion take on the preppy aesthetic.
Their fun, youthful preppy outfits feature plaid skirts, knee-high socks, and fitted blazers, all of which are popular preppy staples.
Cher and Dion's take on preppy style also incorporates a lot of trendy elements, such as crop tops, miniskirts, and colorful accessories.
Mixing preppy pieces with more whimsical items allows them to create a look that is both sophisticated and playful.
Their outfits are often characterized by bold colors, such as pink and yellow, and they frequently experiment with patterns, such as tartan and houndstooth, which add a touch of quirkiness to their preppy ensembles.
Clueless fashion has had a lasting impact on pop culture and has inspired many to embrace a more playful and personalized take on the preppy look.
Chanel's Spring/Summer 1995 Collection
Chanel's Spring/Summer 1995 collection, also known as the "New Age" collection, was designed by Karl Lagerfeld and showcased a range of preppy, schoolgirl-inspired looks that were popularized by the 1995 film "Clueless." The collection featured a mix of classic Chanel designs, such as tweed blazers and skirt suits, with more youthful and playful elements like mini skirts, crop tops, and bright, bold prints.
Some of the standout looks from the collection include a pink tweed skirt suit worn with a matching headband and knee-high socks, a plaid blazer paired with a yellow crop top and matching skirt, and a colorful, graphic-printed dress with a sheer overlay.
The collection was well-received by fashion critics and helped to cement Chanel's reputation as a trendsetter in the fashion world. Today, the "Clueless" style continues to be a popular fashion trend, with many designers drawing inspiration from the iconic looks of the 1990s.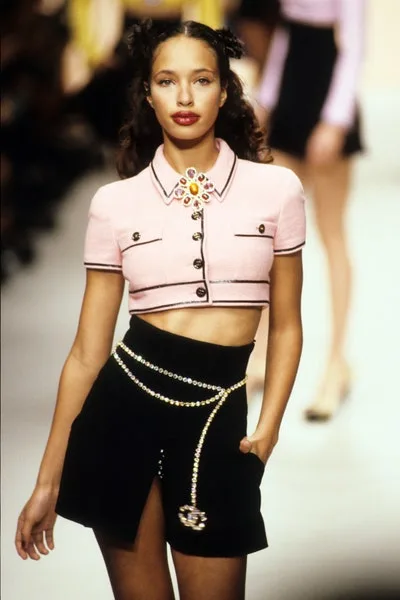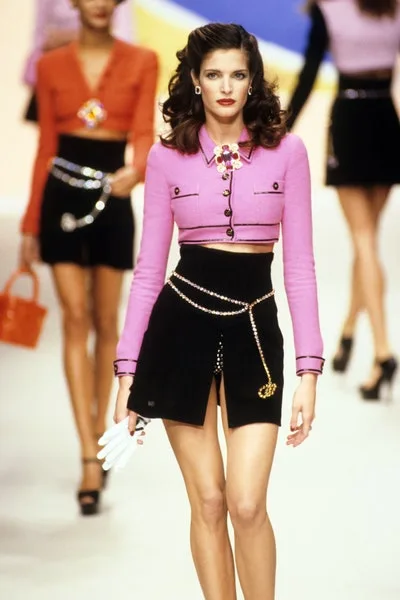 The Official Preppy Handbook
The Official Preppy Handbook is a humor book written by Lisa Birnbach that was first published in 1980. It satirizes and celebrates the culture of prep schools and upper-class America, as well as the fashion, customs, and values associated with this lifestyle.
The book covers a wide range of topics, including the history of preppy culture, preppy fashion (such as Lacoste shirts and Bass Weejun loafers), preppy hobbies (such as sailing and tennis), and even preppy pets (such as English Springer Spaniels). It also includes tongue-in-cheek quizzes, such as "Are You Preppy?" and "What Kind of Preppy Are You?"
The Official Preppy Handbook was a cultural phenomenon that sold over a million copies and spent several months on the New York Times bestseller list.
Some of the preppy fashion trends popularized by the book include polo shirts, khaki pants, Sperry Top-Sider boat shoes, and the "preppy" haircut (short on the sides, longer on top).
One of the most enduring legacies of The Official Preppy Handbook is the term "preppy" itself. Prior to its publication, the term "preppy" was mostly used to describe students who attended prep schools. But Birnbach broadened the definition to include anyone who embraced the preppy lifestyle, regardless of their educational background.
Movies and TV shows like "The Gilmore Girls" and "Clueless," have even referenced the book on screen. Birnbach herself went on to write several other books, including a sequel to "The Official Preppy Handbook" called "True Prep."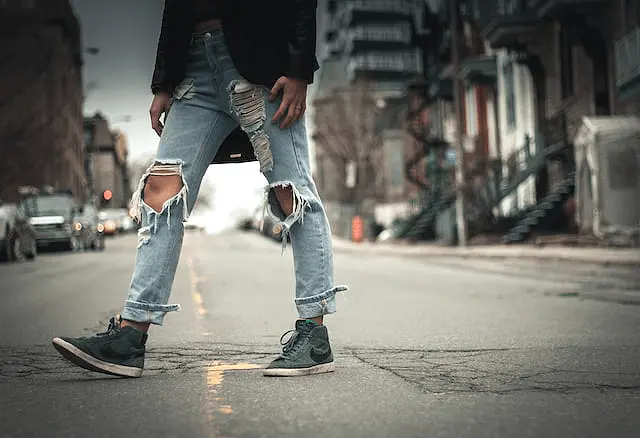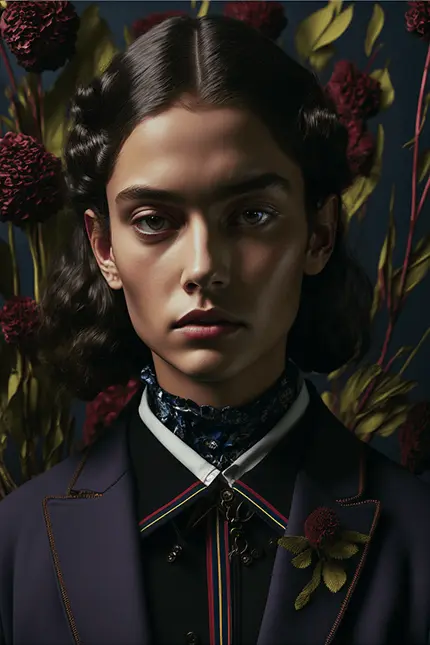 Dark Academia Outfits​
Dark academia outfits mix classic, vintage-inspired clothing in darker, muted colors with traditional materials such as wool, and leather.
Interested in chatting about content or something else?